Geraldine Rurenga is the most recent of the DLT staff who have completed the Leadership Development for Women (LDW) program at Charles Sturt. Congratulations Geraldine!
The 2019 LDW program commenced in May. Geraldine joined a group of colleagues from across the university with a shared interest to conduct the action learning project "Lived experience of gender at Charles Sturt University" as part of the LDW program. The group chose the dependent care support provision of the Travel Policy as the focus of their action research project for the LDW program. The policy was established in the 1990s to facilitate women moving into senior leadership roles at CSU.  The policy is still relevant today as the role of caregiving more often than not falls to women (ABS, 2018) and travel is inherent to many roles at CSU.
The photo, below, shows the group presenting their findings and recommendations at the Final Presentation event for the LDW program on November 20 & 21 in Wagga Wagga.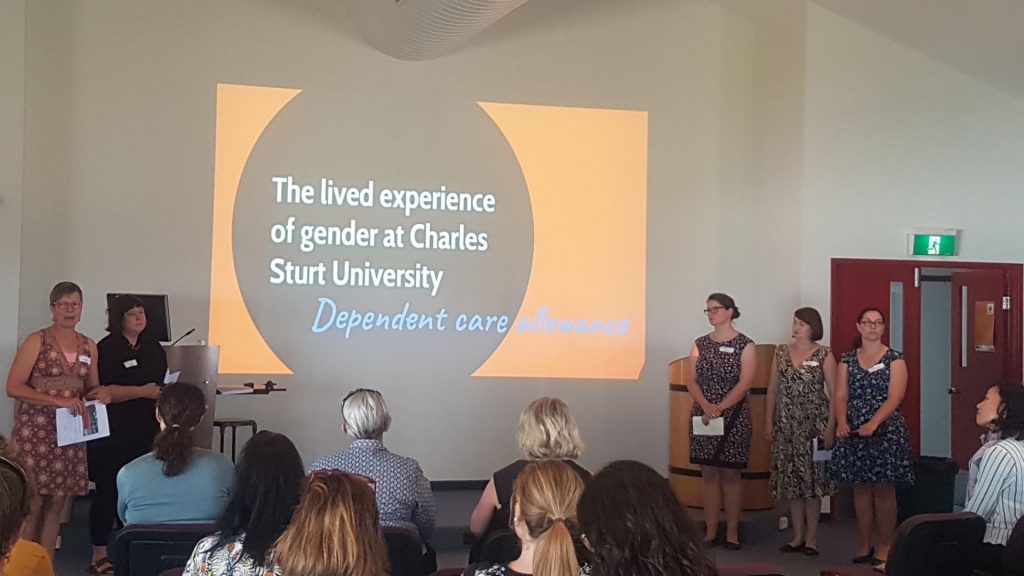 The group will submit the results of their research for publication in the Journal of Social Sciences. They found extremely limited uptake of the dependent care allowance amongst Charles Sturt University staff, with some of the main factors being:
Lack of awareness and understanding about entitlement
Inconsistency and difficulties in the application process
Budgeting constraints tied to operational budgets
Restrictions on access from research grant holders
Restrictions on eligibility for support
Lack of indexation of the payment that was introduced in the 1990s.
The group produced recommendations to deal with all of these issues, in particular a proposal for the allowance to be centrally funded. They will discuss these along with the specific gender issues related to the dependent travel allowance in their upcoming paper. Well done to the team and all the LDW participants. We look forward to seeing the full story in print.
Geraldine was happy to share her reflections on her experience in the LDW program:
"For a young woman in leadership there can be tension and pressure to conform to dominant norms. The LDW program has confirmed my values of leadership and introduced me to the benefit of leading mindfully. Our project group demonstrated the value of hearing and reflecting on another's perspective in a balanced way. Learning from listening has been instrumental for us as leaders to create an informed report and actionable recommendations. I've learned about myself as a leader in our aim to acknowledge our community and respect the diversity of individual contributions to it. Our project group showed incredible support for each other throughout our work and I feel privileged to have worked with these passionate and strong women."
Australian Government. (2018) 4430.0 – Disability, Ageing and Carers, Australia: Summary of Findings Retrieved from https://www.abs.gov.au/ausstats/abs@.nsf/mf/4430.0
Submitted by Ellen McIntyre