One outcome of the DLT restructure in 2019 is that the Learning Technologies Unit has left DLT. Staff and functions from the Unit have been transferred to other divisions within the university. Most have been transferred to the Division of Information Technology, while Learning Analytics staff and functions have been transferred to the Office of Planning and Analytics. Transfer of roles and relocation of staff to new offices took place in late November and early December 2019.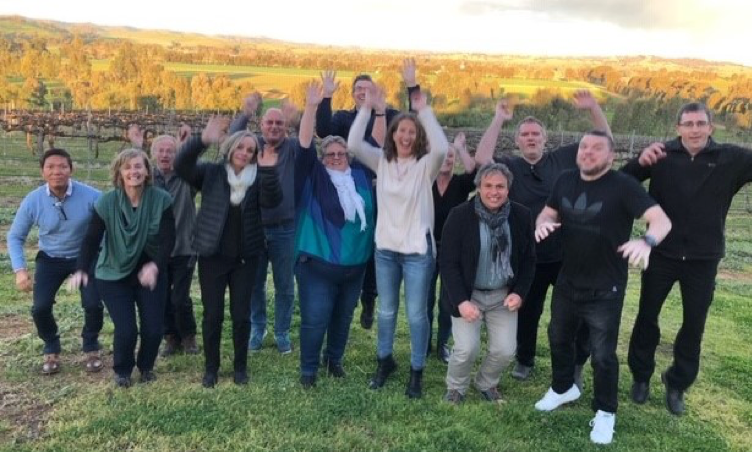 The following report was prepared by the Learning Technologies Team. It highlights and celebrates the contributions of the Learning Technologies Unit for the benefit of Charles Sturt students and staff since the Unit's inception in 2008.
Prepared by the LTU Team and submitted on 13th December 2019 by A/Prof Philip Uys, Director Learning Technologies (since January 2009) with gratitude for all the support and contributions over the years from so many colleagues in DLT and beyond – THANK YOU!
Sam Parker's team (Slav Voss, Mark Cochrane, Matt Deans)
NORFOLK

4 Versions released with increasing levels of features Microsoft would be mortified are possible in Word. Reintroduction of audio comments when Microsoft seem to have found it too difficult to implement.

EASTS Paperless Marking and use by internal subjects

Batch/Return Features.0020. Quick movement from first million submissions to the 2nd million.

Allowing reporting of assessments handed back in class.

Movement from 21 days to 15 working days.

SRS

Division movement to a centralised model that extended the service request capability and made the change possible.

Turnitin

Introduction of the educative student check and consolidating separate school accounts into one managed service.

PebblePad

Increased use in degrees as appropriate.

Textbooks database

Movement from a very ad hoc collection of textbook information to a database that the Co-op Bookshop could use to manage their ordering.

Online Readings Database

Short-lived but innovative database for collecting information about readings that were scanned and could harness code used by Endnote to produce reference lists based on any referencing standard.

DEAPROJ (Project management software)

Project management capacity that hooked in with printery charging, and dispatch processes used when packages were still produced.

I2 Printing Process

Set of technologies used by the printery to produce print ready files from Blackboard when several obstacles exist for this not to occur.

Included implementing charging integration with CSU card.

Subject Outline Archive

Consolidation of 5 different sources of subject outlines to produce a collection of 65,000 subject outlines dating back to 1999. All 5 sources used separate naming conventions or none at all. Half of the files needed to be converted from Word to PDF

DOMS

Implementation and several version upgrades. Many new features gained by suggesting to the vendor. eReserve in DOMS.

Subject Coordinators Database/ACSES

Introduction of new role types to support LMS and GC processes. Started as just Subject Coordinator.

Rollover of the Subject Coordinators database and improvement of new management methods.

Online Moderation (now QUASAR)

Implementation of the Moderation policy. Quasar system developed. Several updates.

Created university source of Subject Convenor and Moderator.

H5p

Implementation and support

Knowledge Matrix (Chatbots and website (Workflowy))

Still a work in progress but some valuable knowledge exists in Workflowy.

Implementation of CoursEvals

SAL+

Basis for this tool originated from Mark Cochrane's scripts to determine student progress and cohort in multi-session subjects.
Dawn Calvert's team (Kim Nevins, Di Plunkett, Matthew Hardinge, Lisa Quick) [with goodbyes to Jason Hambly]
Dawn Calvert won a Charles Sturt Excellence Award in 2019 as project manager of the subject outline team

Learning Management System –  Sakai and Blackboard

Implemented Sakai, Charles Sturt University's first Learning Management System in 2008
Developed Gradebook to automatically transfer student grades to Banner in 2010
Implemented Blackboard in 2014
Developed Blackboard's Grades Journey to meet
Charles Sturt University needs
New theme developed for Blackboard in 2017
Blackboard move to SaaS in January 2019 and monthly upgrades since
Implemented an automated Grades Journey testing process
InPlace

InPlace allows staff to manage workplace learning and was implemented in 2011

10 upgrades and a migration to a new hosting platform

Implementation of Opportunities, Logbooks, Insight modules, with cost Management and Analytics module to be implemented in the new year

Numerous training sessions and many hours of system support

Massive data cleanup and implementation of university-wide processes
MSI and Subject Outlines

Mandatory Subject Information, aka MSI, developed in 2010. First formal 'contract' with the student detailing the subject information and integration to the Learning Management System

MSI rewritten in 2018 now known as Subject Outlines

Subject Outlines project was a successful implementation of both Agile and ADKAR methodologies at Charles Sturt

In 2019, Subject Outlines enhanced to include Graduate Learning Outcomes and online moderation questions

Vice Chancellor's award received by Dawn and her development team
CourseSpace

CourseSpace is a custom Charles Sturt University course design system

Major CourseSpace releases have been occurring since 2016 including significant usability improvements, searching and course rollover

During 2018, implemented in-situ help, New Connection Viewer and the GLO Management Function

Mainstreamed CourseSpace in 2019
Padlet

Originally used with private individual licenses

Introduced as EET December 2018

Approved subsequent NLTA on February 2019 as a 12-month pilot

Institutional license for Padlet rollout out including usage guidelines

254 registered users and growing
BKSB

Introduced to Charles Sturt in 2016 as a pilot – managed by Academics Skills team (then ALLaN)

2018 commenced shared management between DSS and DLT

Development of Application Programming Interface (API) to Banner for student details upload

Large trial in Science underway (350 students) – testing Biology, Chemistry and Physics modules for suitability for use by first year students undertaking science based subjects
Stewart McKinney's team (ALTS) with Ben Hicks [with goodbyes to Simon Welsh; Michael Lea; Ian Holder; Cass Colvin; Ros McNair]
Initiated Blackboard Analytics for Learn product as the basis of learning analytics across the university community

Inaugurated the CSU Learning Analytics Code of Practice, and a Statement of Student Data Rights and Responsibilities

Established a community of practice around data-informed decisions in course/subject design, development and delivery

Enabled learning and teaching data reporting to all levels of the university community through educational intelligence reporting, dashboards and visualisations

Building staff capability through professional development: using learning analytics tools and reports; Grade Centre; SuES dashboards and reports; evaluating learning and teaching

Established foundations of personalised learning using adaptive technologies to personalise or differentiate learning experiences: Smart Sparrow, Realizeit.
Phil Hua's team with Rachel Stewart-Allen
Learning Space Portal pilot – receive 70%+ score on the usefulness of the portal when piloted – integration with timetable system in 2020 and then to be funded

Charles Sturt University Learning Spaces Taxonomy – reduced down from 200+ space names to 7 space names through consultation

Create and facilitate 2018 IUT pre-conference workshop

Leading the creation of the ACODE Learning Spaces site – in collaboration with Macquarie University

Bathurst innovative and collaborative space 325, as an example of active learning in action, as promoted by LTU

Promote the active learning capability of Charles Sturt University; e.g. School of Psychology is using this and will be writing a research paper on their practices within the discipline

Rachel and Philip conducting active learning workshops – building staff capability in understanding pedagogy for effective teaching, online delivery and using technology to support L&T

Conduct a Learning spaces and active learning session in the GCLTHE each year, building awareness and capabilities

Proposed and work with DIT and the Faculty of Science (School of Community Health) to seek agreement for Smartboard technology at SHREC for academics to use active learning with their students

Proposed and implemented signage that complemented the learning spaces to encourage active learning and positive on-campus experience, i.e. "Write On me" signs for writable walls. Students and staff have been using the walls for collaborative and test revision activities.
LTU overall by Philip Uys [supported with effective administration by Julie Matthews and Leanne Tucker] [with goodbyes to Tim Klapdor; Greg Hardham]
Build strong relationships and establish Charles Sturt University's stature in learning technologies, learning spaces and learning analytics in Australasia and beyond through sustained excellence in our work over the years; Philip being ACODE Treasurer and former Ascilite Vice-President;  conference presentations and publications

Build strong relationships within DLT, with the Faculties, DIT, DFM, DSS and the Library

Ongoing professional Development re learning analytics, all learning technologies, and active learning in learning spaces

System upgrades of many systems including InPlace, PebblePad, DOMS, CourseEvals, and CourseSpace etc.

Supported an effective and energetic LTU team

Created and facilitated ACODE's first Leadership Mentoring Scheme in 2018 and 2019 – in collaboration with Melbourne University

Initiated learning analytics at Charles Sturt University five years ago and set up the Learning Analytics Working Party and ALTS

Kicked off and oversaw the mobile learning project

Tim Klapdor won a Charles Sturt Team Management Award as project manager of the mobile learning project

Led the development of the Ed Tech Framework and the annual Ed Tech Plan, and oversee it being kept up-to-date

Led the development of the External Educational Technologies (EET) Policy and New Learning Technologies Approval (NLTA) Policy with DIT

Oversaw the addition of about 20 learning and teaching technologies/systems over this period within a pedagogical (focus on active learning, blended learning, and constructive alignment) and strategic framework

Started the Think Pieces project with A/Prof Merilyn Childs in 2013 and continue to facilitate annually

EETs and NLTAs since 2015:
The LTU team says THANK YOU AND GOODBYE!