The newly refurbished Bathurst Wiradyuri Elders Rooms will be officially opened in the week of 1st-5th July.
The Bathurst Wiradyuri Elders Rooms has been developed out of an ongoing conversation with the Vice Chancellor and his Senior Executive team – in particular Deputy Vice Chancellor (Students) Professor Jenny Roberts – resulting last year in the decision to make room for the Elders in a central place on the Bathurst campus.
The Bathurst Wiradyuri Elders are honoured to have the launch of
Aunty Beryl Philp Carmichael 's book in the same week that their rooms will be officially opened by the University. The Ngiyeempaa and Wiradyuri have a long-standing traditional association that goes back for thousands of years. More recently, they have undertaken the care of CSU Indigenous staff and students and others as part of their cultural responsibility as the acknowledged traditional owners and knowledge holders who have the cultural authority to speak for country.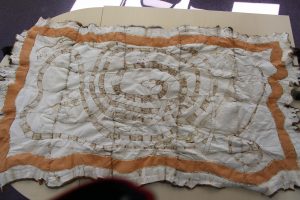 The Bathurst Wiradyuri Elders Rooms is a new initiative at CSU. The Elders perform a very important role at CSU. Since Gulaay was established 2015, a robust and collaborative tenor has been established between CSU and the Bathurst Wiradyuri and Aboriginal Community Elders. An initial space was found for the Elders as an interim measure (to complete possum skins cloaks and attend to other cultural transference) whilst further conversations were had to explore the possibility of a permanent abode, which could also function as a dedicated learning Centre. In 2018 plans were made by CSU Senior Executive to house the Elders in a central part of the CSU Bathurst campus. Currently a core group of six to eight Elders meet regularly at CSU in Bathurst to provide cultural mentoring and pastoral support for Aboriginal staff and students at CSU.
The Elders feel very strongly that this space is a neutral one (not impacting the operations of the student support centres at Wammarra; which they also support) and also connecting them into the University so that collaborative partnerships can develop founded on mutual respect and two-way communication. It is envisaged that this Centre will form part of a Wiradyuri precinct within the CSU Bathurst campus with a yarning circle and eco-walk all in the shadow of Wahluu (Mt Panorama), which is the most significant place for Wiradyuri in this area.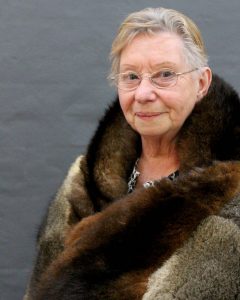 Aboriginal staff and students see the interaction with Elders as invaluable and these interactions give Aboriginal people who study and/or work at CSU a sense of cultural safety and cultural inclusion. Often Aboriginal staff and students are off Country whilst in Bathurst and access to Elders provides some sense of community and home. This cannot be quantified in economic terms but anecdotally it is this type of support that can be the difference between a staff member or student choosing to stay or go depending on the support available.
From a learning and teaching perspective, Elders have been engaged with the building of capacity in curriculum and content. They have been talking with academic and general staff and students around cultural orientation and cultural recognition, Wiradyuri culture and heritage, local histories and current issues. The Elders have also designed and facilitated cultural immersion activities for both students and staff. This partnership involves local communities in the life of the university and establishes a locus of contact that hinges not on any one individual but rather involves relationships with many.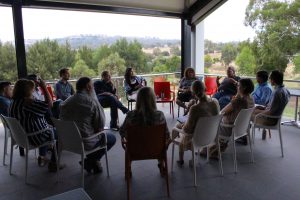 During their meetings, Elders interact with CSU staff and students as well as external community members, a wide variety of other outside interested parties such as local council, local businesses, schools and institutions, environmental groups, non-profit groups and generally anyone who seeks their counsel. The group gives advice and insight into local Wiradyuri cultural matters whenever people ask and they provide cultural mentoring for all who interact with them.
Contributed by Dr Barbara Hill, Indigenous Curriculum & Pedagogy Coordinator and Academic Leader of Gulaay Indigenous Australian Curriculum and Resources team.