Did you know you can use NORFOLK for managing large classes and moderation of all kinds for written work?
NORFOLK has a facility to allow for markers to share their work with a moderator or coordinator for review and any changes required can be rolled into an overall streamlined process.
A subject coordinator for example could roll in the work of 10 markers, review, make any amendments and then have NORFOLK create one file for EASTS and one file for grade centre.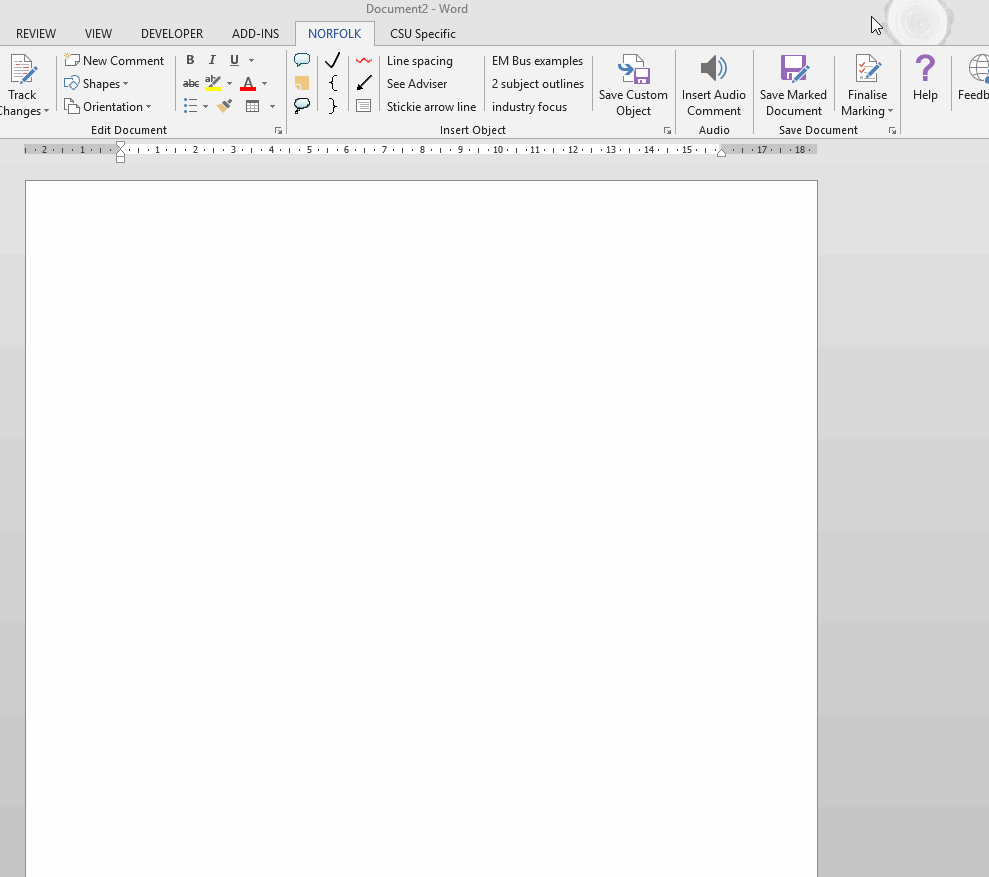 If you would like to know more about this feature please see the link here.
We can also provide NORFOLK training for groups of 5 or more at a time of your choosing (based on staff availability).
These training sessions take the following forms.
NORFOLK for Beginners
This session will cover the basics of efficient paperless marking using Word. This includes saving your rubric, inserting your rubric into assignments, comment banks, audio comments and moderation/QA capabilities.
Use of NORFOLK affords many engaging styles of marking that allow for richer feedback to be provided in an efficient manner. This includes enhancing teacher presence through audio feedback as well as incorporation of friendly visual elements and feedback used by ALLAN advisors in responding to students.
Through various surveys undertaken by those that use NORFOLK more feedback can be provided in the same time and students feel that they have greater engagement with staff when audio comments are used.
Advanced NORFOLK (for existing NORFOLK Users)
This session will serve to show all the new features of NORFOLK 4 with some exciting advancements including the ability to use NORFOLK for marking practical (non-written) assessments, moderation of assignments in NORFOLK and new batch processes to speed up marking overall (particularly for multiple marker subjects).
It is intended that attendees will be at minimum familiar with the various features of NORFOLK to gain the most out of discussing some of the more advanced concepts available with this version.

Contributed by Sam Parker sparker@csu.edu.au, Manager, Learning Technologies Unit, Division of Learning and Teaching