Here at CSU, we want our graduates to be literate professionals who are ready to make positive change in the world.
We want them to develop well founded and compelling arguments, delivered to the right audience through the right medium.
We want them to be ready to start work in their chosen profession and keep learning throughout their lives.
We want them to tackle complex ethical issues, work across language and cultural boundaries, especially with indigenous communities.
We want them to balance the social, economic and environmental forces to produce sustainable solutions and leave the world in good shape for future generations.
In short, we want our students equipped to Create a World Worth Living In.
This is a lot to ask of our graduates, but three years is enough time for us to develop these qualities in each of our students. The chief method by which we develop these qualities is the same method as we develop all of their skills and abilities, through learning outcomes.
The Graduate Learning Outcomes are a set of 27 learning outcomes designed to scaffold our students' development.  The good news is that most of these GLOs are already in our courses, and a few of them are likely to be covered, maybe not explicitly, in your subjects.  Subject convenors can now identify assessments that are aligned with individual GLOs in the subject outline. 
Here's a snapshot of the subject convenor's view of GLOs in subjects for 201960.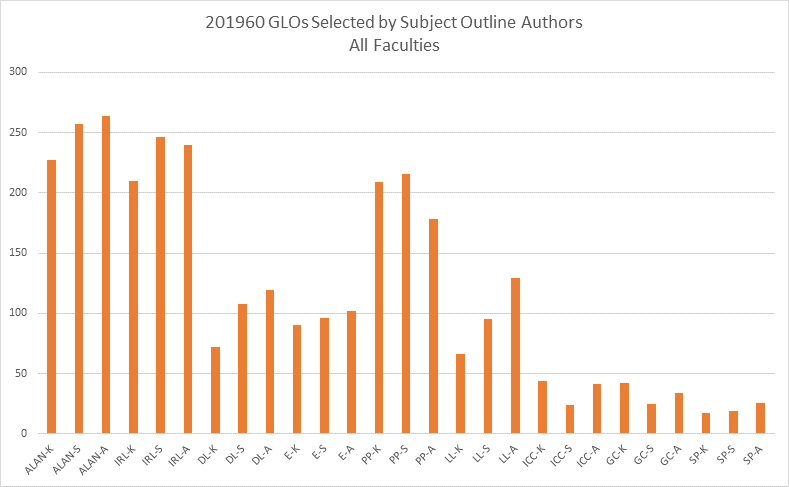 Want to know more about the GLOs (like what the abbreviations mean)?  The GLO Support Site thinkspace.csu.edu.au/glosupport provides background information, suggestions for teaching and assessment, and directions for course and subject design.
Want to speak with a GLO Advisor?  Find them here thinkspace.csu.edu.au/glosupport/contact
Contributed by Bruce Stenlake, Graduate Learning Outcomes Manager, Learning Academy, Division of Learning and Teaching