Darryl Clare from Central Queensland (CQ) University recently facilitated a web conference titled AR/VR and Creating Authentic Learning Environments: Beyond the physical learning space. This highly popular session, conducted via Zoom on 8 July 2019 attracted more than 60 participants.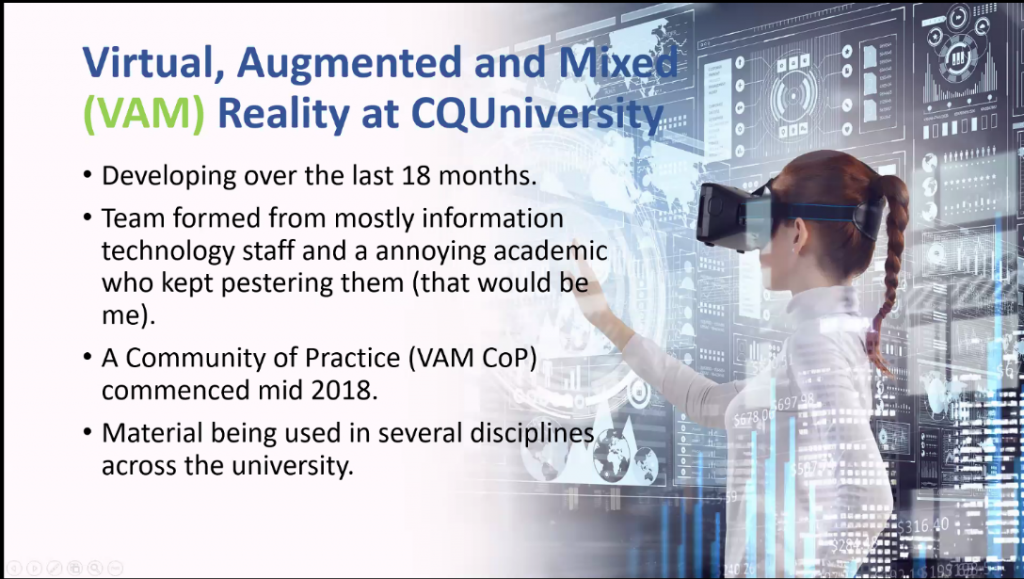 Darryl is a passionate educator with 25 years' experience in clinical education. He has a passion for education, research and implementing best practice in pre-hospital care and is a Lecturer in Paramedic Science with the School of Health, Medical and Applied Science at CQ University. He started working in augmented and virtual reality four years ago to enhance the learning experience in paramedic education delivered at CQ University. He wanted to find a way to bring "rare" events, to paramedic students in a meaningful and engaging way. This led to creating virtual reality scenarios that immersed paramedic students in rare events such as triage.
Darryl showed examples of how 360 video and Virtual Reality are being used at CQ University to create engaging authentic learning environments for students. One great example was Patient Assessment in an Ambulance. It's a video that when watched on immersive gear i.e. Oculus GO Headsets, puts the student into the ambulance with the paramedic lecturer. This acclimatises the student as to what it will be like in an ambulance and it role models behaviour of the paramedic. The result in terms of learning, is a better understanding of patient management, understanding the technicality of patient delivery within the world of an ambulance environment, and soft skills such as empathy for patient and best practice for paramedics.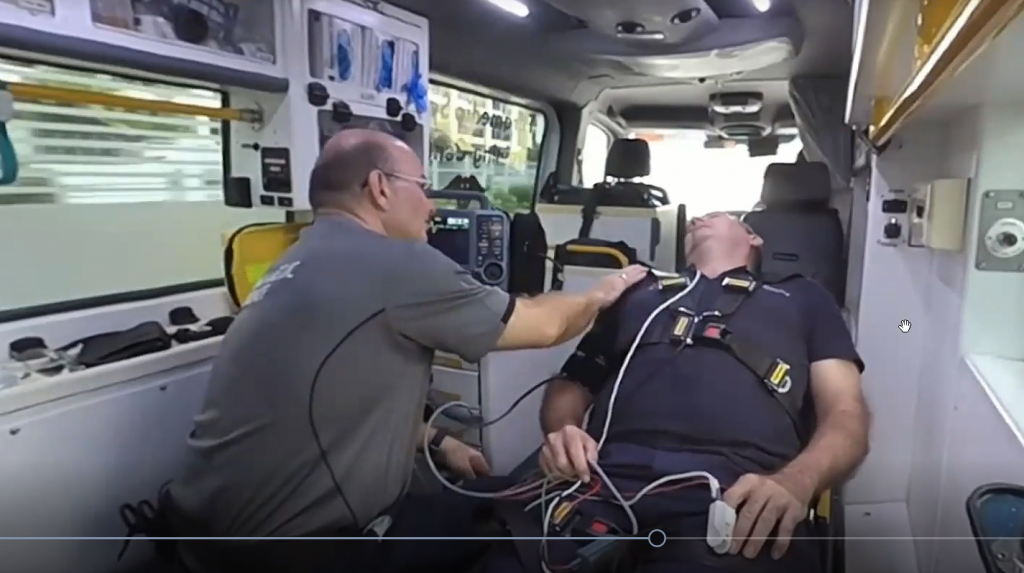 Mixed Reality in Health Education
The picture below shows how Mixed Reality simulation is used for medical education. Simulation training has improved patients' safety as it allows students to practice techniques and face challenges before they treat live patients.
Overview of technologies, equipment and software used to create AR & VR learning material were shown such as:
Cameras: Garmin VIRB 360 and Insta360 One X Camera
Headsets: Oculus GO Headsets
Software: Adobe Premier, Adobe captivate
Darryl Clare and Michael Cowling from CQ University mentioned that the overall student engagement was very positive, evident from student feedbacks and surveys.
Contributed by Rachel Stewart-Allan, Learning Spaces Educational Officer, Learning Technologies Unit, Division of Learning and Teaching.